Approved Plumbing has been working with contractors and commercial builders for almost 70 years. Our customers rely on us to provide all of the services and plumbing expertise they need to make sure their facilities meets specifications and function trouble free.
Indoor products & services
Eye wash stations
Drinking fountains
Pre-rinse faucets
Commercial grade bathroom installations
Toilets, urinals, flush valves
Point of use water heaters
Lift stations
Grease traps – cleaning & installation
Nickel floor drains
Commercial water heaters
Installation and service of gas, water and air lines
Meter manifolds
Outdoor products & services
High pressure sewage jetting
Vaults – Installed, pumped and checked
Air lines – all sizes
Gas lines 1″ – 6″
Water lines 3/4″ – 8″
Grease traps cleaned and installed
Meter manifolds
A.D.A. (American Disabilities Act) compliance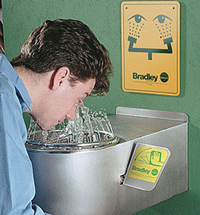 We are back flow installation, testing and prevention specialists!
Large pipe sizes is our specialty