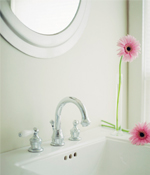 When deciding to remodel your bathroom, what is the first thing you think of? Maybe it's finally having a separate bathroom for the kids.  A space where you can relax after a hectic day. Or maybe you start to envision a half-assembled disaster that takes too long.  Even worse, you start to think of what will happen if you go over budget.
A bathroom remodel can be pretty scary, but it doesn't have to be. A reputable contractor should have an easy to follow process that ensures you get the bathroom you want without all of the problems.
At Approved Plumbing, our first step involves our lead estimator discussing the budget with the homeowner.  He'll take a closer look at what needs to be replaced. Every homeowner needs something different.  For example, some hire us just for the plumbing, others prefer to have us do everything (demo, rough plumbing and the install.)
Next, we refer our clients to a Cleveland-area plumbing supply company to pick out the tub, toilet, faucets and tile and any other amenities they want. Once the homeowner has selected their favorite items, we will finalize the contract with the homeowner and secure a deposit to order the materials.
Once all of the materials arrive, we schedule the work with the homeowner. A complete bathroom remodel with Approved Plumbing typically takes a week to achieve that beautiful new bathroom.
At Approved Plumbing, we want every homeowner to get the most from their newly remodeled space. Before taking on the daunting task yourself, consider hiring a team with years of professional experience to get the bathroom of your dreams.