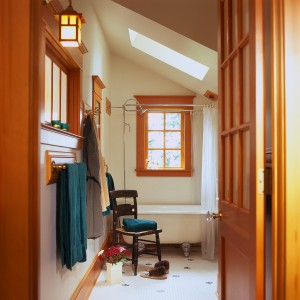 The idea of tearing-up your bathroom and sharing the kid's bathroom with the whole family can seem unpleasant at best.  What if the project takes longer than expected?  What if you go over budget?  Many homeowners are wary of the setbacks that can arise during a bathroom remodel.  The best way to avoid setbacks is to hire an experienced contractor.  Below is the process we use at Approved Plumbing to make sure clients get the bathroom of their dreams while minimizing headaches along the way.
Step One: Budget
The first thing Larry, our lead estimator, discusses with the homeowner is budget.  We'll often meet homeowners who want to gut the bathroom – and then want everything replaced for $2,000.  We can work with a $2,000 budget, but most contractors will tell you that you won't be getting a new master bathroom at that price point!  It's best to be realistic about your budget and what you can do with it.
Step Two: Estimate
Once Larry is in the space, he'll take a closer look at what needs to be replaced.  Some clients will hire us to complete the rough plumbing at the start of the project, while others hire us for the complete remodel.  Every homeowner needs something different, and we factor that into our estimate.
Step Three: Design
We refer our clients to a Cleveland-area plumbing supply company to take a look at tubs, toilets, fixtures, tile and more.  An important detail we keep in mind is the client's timeline.  If the bathroom needs to be finished in three weeks, we'll make sure the client avoids fixtures that have a six-week lead time.
Step Four: Contract
Once the homeowner has selected their favorite items, the supply company will fax us the information.  We might make a few recommendations to better accommodate the space.  From here, we finalize the contract with the homeowner and secure a deposit to order the materials.
Step Five: Remodel
We wait until all the materials have arrived (and make sure nothing is damaged) before scheduling the work with the homeowner.  When Approved Plumbing is hired for a complete bathroom remodel, the work will take about a week.  Typically the work starts on Monday, and by Friday the owners come home to a beautiful new bathroom!
Every contractor's process is a little different, but ours is designed so every homeowner can get the most from their newly remodeled space.
Click here to learn about our bathroom remodeling service, or give us a call at (440) 526-2905 and we will happily answer any of your questions.